Full of nutritious value and disease fighting properties, these super-foods have many potential benefits when we incorporate them into our diets.  Optimize your health by incorporating them into your daily routine:
Quinoa: This ancient grain stands out as one of the few complete vegetarian sources of protein. It's great for weight loss as it is low-carb, as well as providing your recommended daily dose of iron.
Sweet Potatoes: One sweet potato contains the recommended daily dose of beta-carotene, as well as other cancer-fighting antioxidants. A great source of vitamin A, this power player helps with boosting immunity and healthy bone-building.
Manuka Honey: Feeling under the weather or have a sore throat? Mix a tablespoon of this sweet stuff in a cup of hot water. Not only is manuka honey rich in vitamin B, it is also stacked with natural antibacterial properties that help support the immune system and get you on your way to feeling better! Caution: Although great for adults, honey is not recommended for infants under the age of 12 months.
Garlic: Another wonder-food if you feel like you may be getting sick. Garlic is antimicrobial, antibacterial and immunity boosting. It is also protective for the heart, soothes digestion and fights carcinogens (cancer-causing agents) generated by grilling. Tip: When cooking anything on the barbecue, make sure to add a bit of garlic to your meal to counteract the negative effects of grilling.
Black Beans: Potentially the healthiest beans of them all, black beans are high in  protein and fiber and are virtually fat-free. Just one cup offers a huge blast of cancer-fighting properties, as well as 59% of your daily recommended dose of manganese, an important mineral that helps your body metabolize carbohydrates.
Avocados: Avocados are an excellent source of healthy fats, important for keeping the heart healthy. Just half an avocado has more potassium than a banana and brain-protecting folate. Tip: When avocados are combined with tomatoes (rich in vitamin C and E), red onions (high in phytochemicals) and spicy chili peppers (another great source of vitamin C), tasty guacamole becomes a immunity-boosting treat!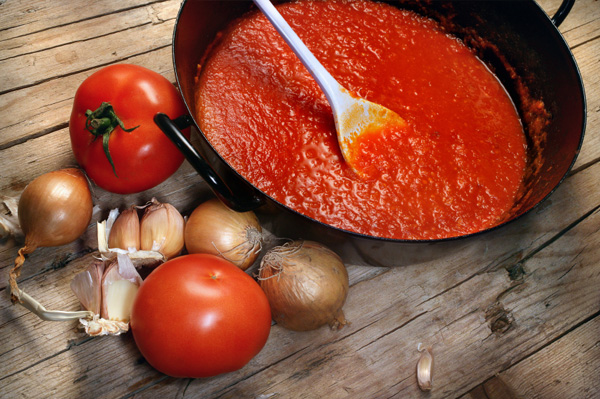 Homemade Tomato Sauce: Speaking of tomatoes… When tomatoes are cooked,  the increase in temperature raises the amount of lycopene the body can absorb, which has the potential to delay pre-mature aging. Tomatoes have also been found to enhance the body's natural levels of SPF protection and neutralizes free radicals.
Plums: Plums are one of the only fruits that contain heart-healthy vitamin E, as well as being high in fiber and vitamin C. Consuming plums, either fresh or dried, helps to fend off osteoporosis by promoting bone-density, which is important for both sexes, although especially for women.
Bulgar Wheat: Highly-satisfying due to its rich fiber content, bulgar wheat stabilizes blood sugar and keeps you feeling full. Tip: Use in place of couscous for a healthier alternative.
Dark Chocolate: Research has shown dark chocolate to have disease-fighting antioxidants which neutralize free radicals and protect against cancer. Other studies show that consuming just one ounce of dark chocolate increases mood, eases emotional stress and increases libido!
Try adding these foods to your grocery list and make an honest attempt to incorporate them into your weekly routine. By adding these foods into the mix, you are doing yourself and your family a big favor towards better health and well-being. Enjoy!